PRODUCTS
 

Sea Water RO Systems

SWROL Commercial Series

Martin SWROL Commercial series are available with capacities ranging from 400 GDP to 1600 GDP. Designed to convert seawater to drinking water, these systems use our proven technology to give reliable performance and meet the demanding requirements of the marine environment. Their compact design makes them ideal for use on yachts, boats, cruise ships, and resorts.
Standard Features
l Thin Film Composite Seawater RO Membranes
l FRP Seawater Membrane Housing
l Aluminium Bronze or Stainless Steel High Pressure Pumps
l Permeate and Concentrate Flow Meters
l Low and High Pressure Switch
l Compact Powder Coated Frame
l Automatic Operation with Level Controls
l Stainless Steel Back Pressure Control
l 5 Micron Sediment Filter and Housing
l High Pressure Relief Valve
l Auto feed Shut-Off
l Liquid Filled System Pressure Gauge
l Microprocessor Controller for Automatic Operation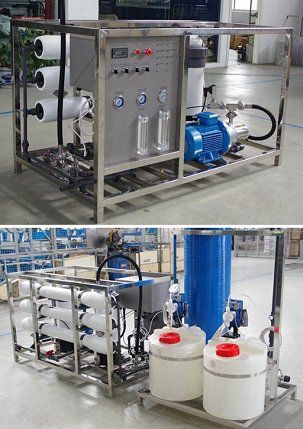 System Working Conditions:
l Based on 35,000 ppm seawater at 77°F (25°C).
l Recovery in the range of 10-15%.
l Operating pressure 800-1000 psi (57-71 kg/cm²).
| | | | | | | |
| --- | --- | --- | --- | --- | --- | --- |
| MODEL | Capacity (Minimum) | Membrane Quantity | Inlet / Outle | Motor | DIMENSION LxWxH (CM) | ShipWeight (kg) |
| SWROL-400 | 400 GPD (1.5Ton/day) | 2540X1 | 3/4" / 3/8" | 1.5 HP | 120X55X55 | 75 |
| SWROL-800 | 800 GPD (3.0Ton/day) | 2540X2 | 3/4" / 3/8" | 1.5 HP | 120X55X55 | 90 |
| SWROL-1200 | 1200 GPD (4.5Ton/day) | 2540X3 | 3/4" / 3/8" | 2.0 HP | 120X55X55 | 105 |
| SWROL-1600 | 1600 GPD (6.0Ton/day) | 2540X4 | 3/4" / 3/8" | 3.0 HP | 120X55X55 | 120 |