PRODUCTS
 

Multi-cartridges Filter Housings
Cartridge Filters for Water Treatment
Martin cartridge filter is a filter system with high precision. It consists of the housing and the cartridge elements, mainly used in the pretreatment. It's widely used in the electronic industry, sewage water treatment, beverage, food, pure water treatment as well as the home water purification equipment.
Cartridge Filters (3 or 5 rounds)
l All the parts of Martin Cartridge Filter are made of UPUV.
l The highest working temperature is 45°C
l The inlet and outlet are featured under the same line connecting with 1.5" or 2" unions.
l The distribution system of Martin Cartridge Filter is distributed from bottom to top.
l Water is well-proportioned with small strike to cartridges and air is easy to be discharged.
l The bottom system of Martin Cartridge Filter is designed together as a whole the top localizer & closure system.
l Cartridges are easy to be installed, pushed down and closed, preventing leaking inside.
Martin Cartridge Filter is corrosion resistant. It can be used in SS-non-replace field.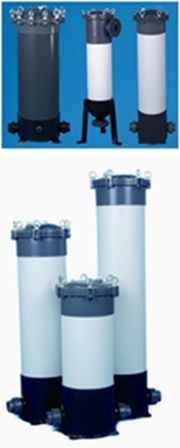 Model No

Material

Size

Cartridges

Inlet/outlet

Max Pressure

MT-CF-3DC1

MT-CF-5DC1

UPVC

Ø225*H465, 10"

3 or 5

DN40/ ANSI1.5" DN50/ANSI2"

0.6Mpa/ 85psi

MT-CF-3DC2

MT-CF-5DC2

UPVC

Ø225*H715, 20"

MT-CF-3DC3

MT-CF-5DC3

UPVC

Ø225*H965, 30"

MT-CF-3DC4

MT-CF-5DC4

UPVC

Ø225*H1215, 40"