PRODUCTS
 

Multi-cartridges Filter Housings

Cartridge Filters (8 or 9 rounds)
l All the parts of Martin Cartridge Filter are made of UPUV.
l The highest working temperature is 45°C
l The inlet and outlet are featured under the same line connecting with 3" unions.
l The distribution system of Martin Cartridge Filter is distributed from bottom to top.
l Water is well-proportioned with small strike to cartridges and air is easy to be discharged.
l The bottom system of Martin Cartridge Filter is designed together as a whole the top localizer & closure system.
l Cartridges are easy to be installed, pushed down and closed, preventing leaking inside.
l Martin Cartridge Filter is corrosion resistant. It can be used in SS-non-replace field.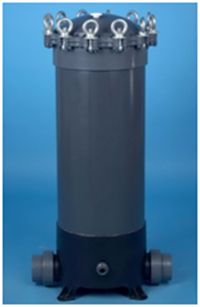 Model No

Material

Size

Cartridges

Inlet/outlet

Drain

Max Pressure

MT-CF-8DC1

MT-CF-9DC1

UPVC

Ø315*H495

8 or 9

DN80/ ANSI 3"

DIN1/2" or ANSI 1/2"

0.6Mpa/ 85psi

MT-CF-8DC2

MT-CF-9DC2

UPVC

Ø315*H745

MT-CF-8DC3

MT-CF-9DC3

UPVC

Ø315*H995

MT-CF-8DC4

MT-CF-9DC4

UPVC

Ø315*H1245