PRODUCTS
 

Central Water Filtration Systems

Central Water Filtration System

The Central Water Filtration System uses superior, patented technology to provide healthier and cleaner water throughout your entire home. This system filters out contaminants and sediment that can adversely affect the taste, odor and appearance of your home's water.
Central Water Filtration Provides:
● Excellent drinking water, Experience great tasting water at a fraction of the cost of bottled water and eliminate the cost and inconvenience of replacing filters.
● Extended Appliance Life, The Central Water Filtration System filters out sediment particles that can build up in your home's plumbing and major appliances, helping to maintain household water pressure and increasing the performance and life expectancy of your valuable appliances.
● Softer Hair & Skin, Many municipalities add chlorine to the water supply. Chlorine can damage and dry your skin and hair, and may give off an unpleasant odor. The Central Water Filtration System filters out chlorine and reduces the harmful affects to your hair and skin.
Features
● Water filters are featured with fine sand and activated carbon
● Martin Mechanical Valve, Manual Valve, Digital Valve and Fleck Valve available
● FRP tank with PE inner shell, SS Jacket available for some models
● Easy installation and low maintenance , Long life and great performance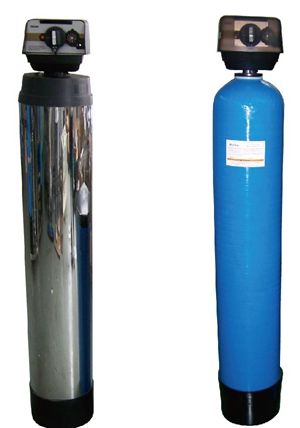 | | | | | | | |
| --- | --- | --- | --- | --- | --- | --- |
| Product Code | MT-FTR-835 | MT-FTR-835-SSJK | MT-FTR-1017 | MT-FTR-1035 | MT-FTR-1054 | MT-FTR-1054-SSJK |
| Flow Rate at 3bar( m³/ h) | 1.0 | 1.0 | 1.0 | 1.5 | 1.5 | 1.5 |
| Max. Flow at 3bar( m³/ h) | 1.5 | 1.5 | 1.2 | 2.0 | 2.5 | 2.5 |
| Working Temperature( ℃) | 5~38 | 5~38 | 5~38 | 5~38 | 5~38 | 5~38 |
| working Pressure( MPa) | 0.15~0.6 | 0.15~0.6 | 0.15~0.6 | 0.15~0.6 | 0.15~0.6 | 0.15~0.6 |
| Inlet & Outlet | 3/4" | 3/4" | 3/4" | 3/4" | 3/4" | 3/4" |
| Control Valve | MT-F11-STC | MT-F11-STC | MT-F11-STC | MT-F11-STC | MT-F11-STC | MT-F11-STC |
| Tank Size( in) | 0835 | 0835 | 1017 | 1035 | 1054 | 1054 |
| Fine Sand Volume (kg) | 25 | 25 | 22 | 35 |  65 |  65 |
| AC Volume (kg) |  8 |  8 |  7 | 12 |  20 |  20 |
| SS Jacket | N/A | YES | N/A | N/A | N/A | YES |