PRODUCTS
 

Membrane Housings
Standard Cut Groove Specifications
1.Pipe specifications and outside diameter: The outside diameter of roll grooved pipe shall not vary more than the tolerance listed.
2.Gasket seat :The pipe surface shall be free from indentations, roll marks, and projections from the end of the pipe to the groove, to provide a leak-tight seal for the gasket. All loose paint, scale, dirt, chips, grease and rust must be removed.
3.Groove width: The bottom of groove to be free of loose dirt, chips, rust and scale that may interfere with proper coupling assembly.
4.Groove outside diameter: The groove must be of uniform depth for the entire pipe circumference.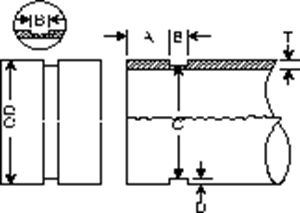 STANDARD CUT GROOVE PIPE SPECIFICATION FOR FLEXIBLE COUPLINGS

NominaSize

Tolerance for outer

Gasket

Groove

Groove Dia.

Groove

Min.Wall

diameter pipe

Seat

Width

C

Depth

Thickness

Basic OD

Tol.

A

B

Basic

Tol.

D

T

in

in

in

in

±0.03

±0.03

in

in

in

in

mm

mm

+mm

-mm

±0.76

±0.76

mm

mm

mm

mm

3/4

1.050

0.010

0.010

0.625

0.313

0.938

-0.015

0.056

0.113

20

26.7

0.25

0.25

15.88

7.95

23.83

-0.38

1.42

2.87

1

1.315

0.013

0.013

0.625

0.313

1.190

-0.015

0.063

0.133

25

33.4

0.33

0.33

15.88

7.95

30.23

0.38

1.60

3.38

1-1/4

1.660

0.016

0.016

0.625

0.313

1.535

-0.015

0.063

0.140

32

42.2

0.41

0.41

15.88

7.95

38.99

-0.38

1.60

3.56

1-1/2

1.900

0.019

0.019

0.625

0.313

1.775

-0.015

0.063

0.145

40

48.3

0.48

0.48

15.88

7.95

45.09

-0.38

1.60

3.68

2

2.375

0.024

0.024

0.625

0.313

2.250

-0.015

0.063

0.154

50

60.3

0.61

0.61

15.88

7.95

57.15

-0.38

1.60

3.91

2-1/2

3.0

0.029

0.029

0.625

0.313

2.836

-0.018

0.078

0.188

65

76.1

0.74

0.74

15.88

7.95

72.04

-0.46

1.98

4.78

3

3.500

0.035

0.031

0.625

0.313

3.344

-0.018

0.078

0.188

80

88.9

0.89

0.79

15.88

7.95

84.94

-0.46

1.98

4.78

4

4.500

0.045

0.031

0.625

0.375

4.334

-0.020

0.083

0.203

100

114.3

1.14

0.79

15.88

9.53

110.08

-0.51

2.11

5.16
Product Code

Size DN

Size Inch

Coupling Material

Pressure Rating






MT-NP-20

DN20

3/4"

SS304

600PSI




MT-NP-25

DN25

1"

SS304

600PSI




MT-NP-32

DN32

1 1/4"

SS304

600PSI




MT-NP-40

DN40

1 1/2"

SS304

600PSI




MT-NP-50

DN50

2"

SS304

600PSI




MT-NP-65

DN65

2 1/2"

SS304

600PSI




MT-NP-80

DN80

3"

SS304

600PSI




MT-NP-100

DN100

4"

SS304

600PSI




MT-NP-125

DN125

5"

SS304

600PSI




MT-NP-150

DN150

6"

SS304

600PSI