PRODUCTS
 

Water Filling Machine Line

Bottled Water Filling Line

The MT-CGF series bottled water filling line is designed to fill mineral water or purified water into PET bottles from 200ml-2500ml. Full models are available for the output from 500QB/H to 36000B/H.

Martin MT-CGF series bottling machine incorporates rinsing, filling and capping in a complex system with full-automatic controls. It is suitable for producing PET and plastic bottled mineral water and purified water. The method of filling adopts gravity or micro-pressure filling which makes the filling velocity faster and more stable. The equipment is fitted with,the advanced PLC to control the operation and cooperated by frequency converter of the main motorit makes the operation more stable and reliable. The photoelectric sensors are used to detect operating conditions of each section, which makes the operation of this equipment highly automatic and convenient.
Main Features:
● The 3 in 1 unit machine mono-block designs incorporate rinsing, filling, and capping into one
● No bottle feeding screw and conveying chain. Easy to change the bottle shape.
● High-speed mass flow gravity filling valve is designed to ensure the high filling speed and precise liquid level without any loss.

● High-quality stainless steel and food-grade components used for the luiquid contacts.
● Bottle-outputting star wheel and bottle-bottom supporting plate adopt spiral winding method, no need to adjust the height of bottle conveying chain while changing the bottle shape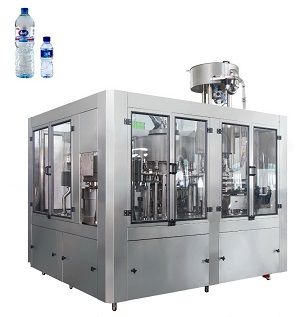 Model

CGF14-12-5

CGF18-16-6

CGF24-18-6

CGF32-24-8

CGF40-32-10

CGF50-40-12

CGF72-50-18

CGF80-60-20

Capacity (500ml/bottles)

5000BPH

8000BPH

10000BPH

15000BPH

18000BPH

22000BPH

30000BPH

36000BPH

Washing heads

14

18

24

32

40

50

72

80

Filling heads

12

16

18

24

32

40

50

60

Capping heads

5

6

6

8

10

12

18

20

Suitable bottle

PET bottle, Plastic bottle

Bottle Size

Φ55-110mm

Height of bottle

150-310mm

Suitable cap

Plastic thread cap

Weight

2000Kg

4000 Kg

4500 Kg

6000 Kg

7800 Kg

9000 Kg

10000Kg

12000Kg

Main motor power

1.5Kw

3 Kw

3 Kw

3 Kw

5.5 Kw

7.5 Kw

7.5 Kw

7.5 Kw