PRODUCTS
 

Residential RO Systems

RO-550 Series (5 stage RO system without pump)

Martin residential RO system, Provides high quality and healthy drinking water. Effectively removes sediments, Chlorine, calcium, magnesium and other harmful contaminants. The system is highly qualified and competitively priced. It comes fully assembled with all hardware, instruction manual and one year warranty. Able to design and assemble systems according to customers' spec or sample, private label is welcome as well.
RO-550 Features:
● 5 Micron Sediment
● GAC Carbon
● Carbon Block
● 50 GPD Membrane
● In-Line GAC Carbon
● Manual Shut-Off Valve
● 3.2 Gallon Tank (or other types) & Ball Valve
● Long Reach Faucet or other types
● All Hardware Included
● Assembled & Tested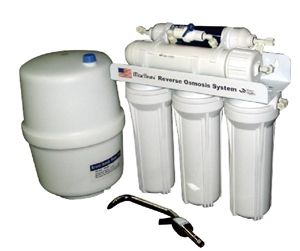 | | | | | | | | |
| --- | --- | --- | --- | --- | --- | --- | --- |
| Product Code | Pump | Housing | Fittings | Faucet | Tank (Gal.) | Dimension (CM) | Ship Weight |
| RO-550-E-32MT | N/A | Single O-Ring | Non-Quick | Ordinary Long Reach | 3.2 Metal | 43X30X63 | 14.50kgs |
| RO-550-E-30PT | N/A | Single O-Ring | Non-Quick | Ordinary Long Reach | 3.0 Plastic | 43X30X63 | 14.50kgs |
| RO-550-E-DO-32MT | N/A | Double O-ring | Non-Quick | Ordinary Long Reach | 3.2 Metal | 43X30X63 | 14.50kgs |
| RO-550-E-DO-30PT | N/A | Double O-ring | Non-Quick | Ordinary Long Reach | 3.0 Plastic | 43X30X63 | 14.50kgs |
| | | | | | | | |
| RO-550-S-32MT | N/A | Double O-ring | Quick | Ordinary Long Reach | 3.2 Metal | 43X30X63 | 14.50kgs |
| RO-550-S-30PT | N/A | Double O-ring | Quick | Ordinary Long Reach | 3.0 Plastic | 43X30X63 | 14.50kgs |
| RO-550-D-32MT | N/A | Double O-ring | Quick | Three Pronged Ceramics | 3.2 Metal | 43X30X63 | 14.50kgs |
| RO-550-D-30PT | N/A | Double O-ring | Quick | Three Pronged Ceramics | 3.0 Plastic | 43X30X63 | 14.50kgs |